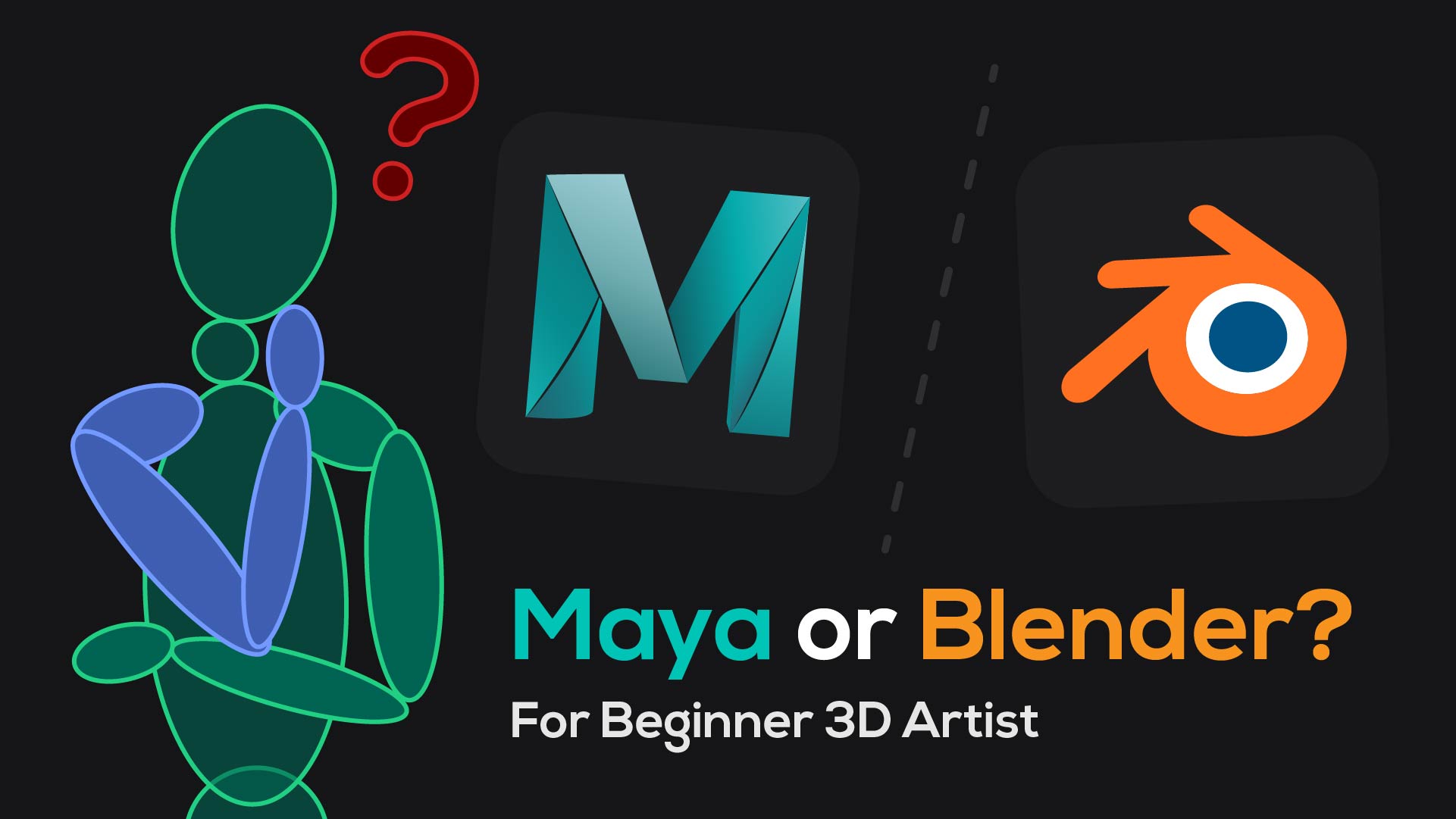 Introduction
When it comes to 3D modeling software, Maya and Blender are two of the most popular options. While both programs has the perfect tools for modeling, each has its unique features.
In this article, we will explore the pros and cons of Maya and Blender, and help beginner 3D artists figure out which program is worth starting to study.
Maya
Maya is a widely used software for 3D modeling, especially in larger studios with complex projects when the workflow including animation and rigging. The extensive tool kit and capabilities make Maya a top choice for professionals in the game development industry, so a lot of job offers require experience to work with.
One of the unique features is its realistic hair generation system XGen, which is used by many top AAA game development studios worldwide. Additionally, Maya remains the best animation and rigging software programs and supports most file formats, making it ideal for use among different specialists in a large team.
Pros:
Industry standard in game development;
Having experience with Maya can make it easier to find a job;
The best program for animation and rigging;
Has a free Autodesk Education plan for students;
Customizable interface.
Cons:
High price of the commercial version;
Occasional crashes;
Slow program loading;
Overwhelming and complex interface;
Sometimes difficult installation and uninstallation processes;
The GPU render engine requires buying.
Blender
Blender is a great option for independent artists who are just starting their career in 3D modeling. However, this does not make Blender any less powerful. It has a brilliant interface, intuitive navigation, and a flexible hotkey system. It's free and very friendly to learn.
One of the most significant advantages of Blender is its add-ons. A constantly growing community creates the most incredible add-ons, including those that use artificial intelligence technologies.
For example, the HardOps and BoxCutter add-ons bundle is a game-changer in hard surface modeling. They can greatly increase the modeling speed and make the process incredibly easier.
Moreover, Blender doesn't require additional rendering software to make perfect renders. Its open-source nature, large community, and free commercial use make Blender more popular year after year.
Pros:
Free to commercial and personal use;
Friendly interface;
The most comfortable navigation in viewport;
Fast software loading and working;
A lot of impressive add-ons improving work speed, including free;
The largest community;
Regular updates and improvements;
Include free GPU rendering engine.
Cons:
Occasional crashes;
Possible less job offers.
Conclusion
If you're a beginner 3D artist, Blender is the best option to start learning 3D modeling.
On the other hand, if you're looking to work on AAA projects in a game development studio and going to deep dive into animation and rigging, Maya remains the industry standard. However, it's worth noting that more and more studios are starting to value general 3D skills over specific software experience.
Personally, when I started learning 3D modeling as a hobby, my goal was to have fun. I began by using Maya, but after half a year, I got frustrated with its inflexibility. I then tried Blender and was amazed at how powerful and constantly evolving it was. It covered all of my needs. The user-friendly interface and abundance of tutorials on YouTube encouraged me to experiment, learn new features, and stay motivated.
You should know that Maya and Blender are not the only software options in the 3D industry. Check out our article about the most popular 3D programs here.